WISE Yoga specializes in vinyasa, slow flow, and yin yoga classes instructed by Registered Yoga Teachers (RYTs). Mats, blocks, bolsters and blankets are included in WISE Yoga classes. WISE Yoga is a well-rounded yoga program suited for all-levels.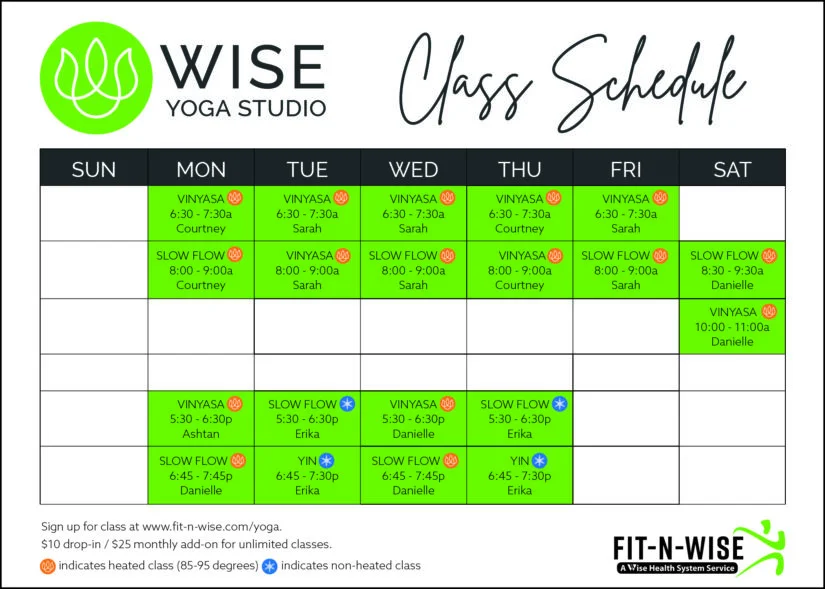 All specialty Yoga classes are held in the Yoga Room on the second floor of Fit-N-Wise.
VINYASA YOGA: Build strength, stamina, coordination, and flexibility by combining traditional yoga postures with mindful breath work. Each class is uniquely designed by the instructor to provide a balance between fluid movement and steady pose holds while also offering opportunities for arm balances, backbends, and inversions (modifications are always available). This is our most challenging class, so experience with fitness and/or yoga is recommended. 
SLOW FLOW YOGA: A slowed down version of Vinyasa, this class utilizes a steady flow of basic yoga postures to increase strength, stamina and improve flexibility. With longer pose holds, this class offers the challenge of a slow burn with the opportunity to refine proper alignment and breathing techniques. This class is suitable for all levels and is very appropriate for beginners. 
YIN YOGA: A slow-moving, deep stretching class that penetrates the connective tissues, joints, and fascia of the body to expand flexibility. Yin Yoga invites practitioners to slow down and create space for stillness in the body and mind. Poses are held for 3-5 minutes and practiced on the floor with as many yoga props as needed. This class is suitable for all levels. 
*Heated and Non-Heated yoga classes are available. See class schedule for options.
FREQUENTLY ASKED QUESTIONS
Why does it cost extra to take WISE Yoga classes?
Good question! WISE Yoga is operated like an in-house yoga studio offering quality instruction through certified yoga teachers, exclusive access to yoga props, smaller class sizes (more individualized attention!), and a heated environment (for some classes). Additionally, we provide tranquil lighting and aromatherapy benefits with our essential oil diffuser. We aim to make every experience a special one, from the moment you walk in the door to the moment you leave. That's why it is considered a specialty yoga class.
How are WISE Yoga classes different from Group Exercise Yoga classes?
While both of our Yoga offerings can be beneficial to our members and clients, there are several differences between WISE Yoga classes and Group Exercise Yoga classes including the heated environment for specific classes and use of yoga props. One of the biggest differences in WISE Yoga classes is that the instructor is not always doing the class with you. This is an important because the instructor is often watching the room closely and adjusting the class pace, sequence, and intensity to the needs of the room. This also means that the instructor is available to provide hands-on assists and guidance in poses to help with alignment and stability.
Instructors in a WISE Yoga class may take time to workshop challenging postures including arm balances, inversions, and backbends. Our goal in WISE Yoga classes is to make sure that students are practicing safely and learning the tools they need to continue to develop their yoga practice.
What is a certified yoga teacher?
Certified yoga teachers are instructors who are registered with Yoga Alliance, the governing body over yoga studios and yoga teacher trainings. Certified yoga teachers have a designation that indicates "RYT" which stands for "Registered Yoga Teacher." In addition, to maintain one's certification status with Yoga Alliance, registered yoga teachers must complete 30 hours of continuing education every 3 years and maintain a certain number of teaching hours. This means that RYTs are held accountable for their continued training and teaching hours.
For specific classes on the schedule, the room is intentionally hot to warm your muscles, prevent injuries and allow for a deeper release in your body. Sweating will also help flush toxins from your body. Some styles of hot yoga heat the room to 105-110 degrees. At WISE Yoga, classes are heated to 85-95 degrees.
What if I don't want to do heated classes?
You're in luck! We offer non-heated classes as well. Check our most recent schedule for class times.
What's so great about using yoga props?
Yoga props are amazing tools for both modifying and amplifying your yoga practice! If you've ever taken a class and thought, "I can't do that because I can't reach my toes," – a yoga prop can help with that! Yoga props should really be called yoga "tools" because they provide you with greater range of motion, accessibility, and stability in your practice. Props can also offer a challenge to your practice! In the yoga room, we have yoga blocks, bolsters, straps, blankets, and eye pillows, and we use at least one in almost every class. Join us to see how we use them!
I'm brand new to yoga. Where should I start?
Welcome! While beginners are welcome to try all of our classes, Yin Yoga and Slow Flow are most appropriate for newcomers to the practice. For Vinyasa classes, previous experience with fitness and/or yoga is beneficial, but not required to enjoy the class.
What if I'm not flexible enough for yoga?
The most common misconception that prevents people from coming to yoga classes is that the student must be flexible. Yoga is not about how flexible you are; rather it's about moving and optimizing your body, spine, and mind to develop and increase your strength, balance, flexibility, general health and happiness. With time, practice and patience, you will most likely benefit from an increase in your flexibility.
What should I bring to my first yoga class?
Bring a water bottle and yourself! Yoga mats and sweat towels are offered in the room, or bring your own. Be sure to wear sweat-wicking clothes if you choose to take a heated class. Please be sure to handle payment before entering the room.
I still have questions! Who do I contact?
Call the Fit-N-Wise front desk at (940) 627-2708 with any further questions. If you still have questions after that, ask to be directed to the Yoga Program Manager, Erika R.